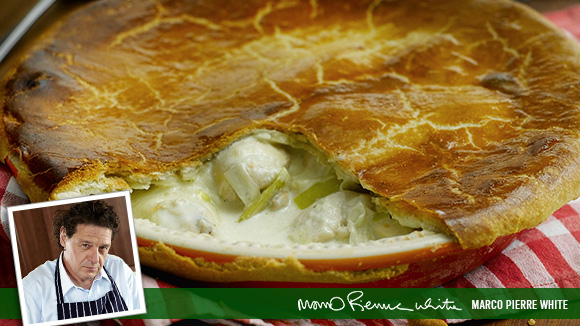 Chicken and Leek Pie
The secret to a good chicken pie recipe is good chicken – and keeping it simple. If you buy the pastry, that's dinner for four in an hour and a half.
Recipe serves

8

Preparation Time

50 min

Cooking Time

30 min
Ingredients
1 Knorr Chicken Stock Pot
4 chicken breasts
2 leeks
10g butter
1 egg
1 shortcrust pastry sheet, ready to use
For the Bechamel:
500ml semi-skimmed milk
25g flour
25g butter
1 Knorr Chicken or Vegetable Stock Pot
Method
Pre-heat the oven to 200°C, Gas Mark 4.
Prepare 500ml of Bechamel (white sauce) until creamy. Note when making Bechamel, you can use Vegetable Stock Pot or Chicken Stock Pot – it's your choice.
Chop the white parts of the leeks. Keep the pieces quite large so they have some texture. Otherwise they just disappear in the sauce.
Melt 10g butter in a frying pan. Cook the leeks without colour in the butter until softened and most of the liquid has evaporated.
Cut each chicken breast into three pieces. I always keep my chicken quite chunky for the simple reason that I want it only half-cooked when I assemble the pie. Smaller pieces will dry out. My way, the pie and the chicken finish cooking simultaneously.
Poach the chicken pieces for approx. 10 minutes in the Bechamel sauce. Dissolve one further Knorr Chicken Stock Pot into the sauce. Keep stirring until the chicken is half-cooked.
Transfer the chicken, Bechamel and leek mix to a pie dish.
Roll out the shortcrust pastry. Lay the pastry over the dish and mould it around the side of the dish so it holds in place. It helps to glaze the edge of the dish with beaten egg beforehand to help it stick. Brush the pastry lid with the egg wash. This will help give it some colour in the oven. Don't be tempted to trim the pastry because it will shrink in the oven and if the pastry shrinks, the pie will leak.
Put it straight into the oven for 20 to 30 minutes, or until it is golden brown on top. How easy was that?
You could make smaller individual pies using the same recipe. They will freeze really well and make a quick and easy meal when you're in a rush. When you are ready to eat one, defrost it in the fridge and eat the same day. Reheat it thoroughly in the oven until piping hot throughout. For lots more hints and tips to help you make the most of your food, visit www.lovefoodhatewaste.com
TRY OUR CHEF'S NEWEST RECIPES