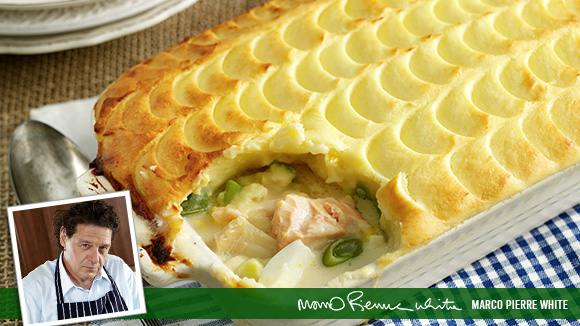 Marco's Classic Fish Pie
The starting point for this classic fish pie is a roux sauce, made from butter, flour and a Knorr Fish Stock Pot, whisked together until smooth and thick, and enriched with cream.
Recipe serves

4

Preparation Time

40 min

Cooking Time

55 min
Ingredients
1 Knorr Fish Stock Pot
20g butter
20g flour
100ml double cream
50g handful of grated mild Cheddar cheese
100g white fish fillet, chopped into round 2.5cm squares
100g salmon fillet, chopped into round 2.5cm squares
100g smoked haddock, chopped into round 2.5cm squares
100g peeled, headless raw prawns
3 hard-boiled eggs, peeled and quartered
150g baby leeks, blanched, chopped, patted dry
1kg mashed potato (made by peeling 1kg potatoes, boiling until tender and mashing with double cream or milk and 2–3 egg yolks)
For a healthier option instead of using 100ml of double cream you can use 50ml of cream mixed with 50ml of milk.
Method
First make your fish stock by dissolving the Knorr Fish Stock Pot in 400ml of boiling water stirring until thoroughly dissolved.
Set the stock aside to cool for around 20 minutes while you prepare the fish and leeks.
Pre-heat the oven to 220°C/Gas Mark 7.
Heat a heavy-based saucepan. Add in the butter, allow to melt, then add in the flour and whisk to mix thoroughly. Using a whisk, rather than a wooden spoon, to make the sauce means you won't have any lumps.
Gradually add in the cooled stock, whisking between each addition. You want to be sure to cook out any floury taste.
Whisking constantly, bring to the boil and simmer until thickened. Whisk in the double cream to enrich the sauce.
Add in the white fish, salmon and smoked haddock chunks. Gently shake the pan to work the fish into the sauce. Cook very gently over a low heat to poach the fish in the sauce.
Two minutes later add in the prawns, again shaking the pan to work them into the sauce, and cook gently for 1–2 minutes until just cooked.
Turn the fish mixture into an ovenproof pie dish. Sprinkle over the blanched leeks and then top with a layer of hard-boiled egg quarters. Sprinkle over the grated Cheddar. This way you're adding layers of flavour and texture to the dish.
Spread over the mashed potato to form a thick, even layer on top of the pie, smoothing with a spatula or palette knife. I used a wet palette knife to indent the mashed potato creating a fish scales pattern, but you can use a fork instead.
Bake for 25–30 minutes in the pre-heated oven until golden brown. The egg yolks in the mashed potato mean that it puffs up as it bakes and gives a lovely golden colour to the topping.
You could double this recipe to make two fish pies, then freeze one for another time. When you are ready to eat it, defrost it in the fridge and eat the same day. Reheat it thoroughly in the oven until piping hot throughout. For lots more hints and tips to help you make the most of your food, visit www.lovefoodhatewaste.com
TRY OUR CHEF'S NEWEST RECIPES