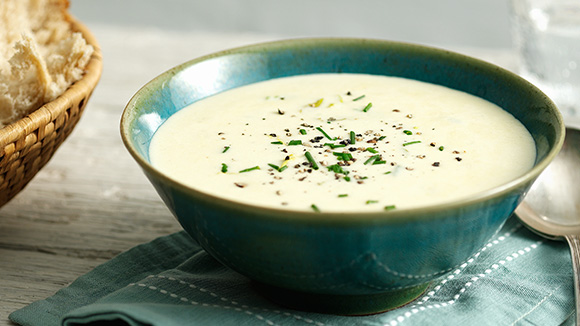 Cream of Celery Soup
The secret to most soups is to 'sweat' the vegetables first, cooking them gently in butter over a low heat for 10–15 minutes, stirring often. This removes the moisture, brings out their natural sweetness and intensifies the flavour.
Recipe serves

8

Preparation Time

25 min

Cooking Time

30 min
Ingredients
1 Knorr Chicken Stock Pot
250g celery
White part of 1 leek
50g butter
1 onion, finely sliced
250g celeriac, peeled and kept in water with a touch of lemon juice to stop it discolouring
1 small potato, peeled
200ml double cream (or, for a low-fat option use Elmea Double Light)
A handful of celery leaves, finely chopped, for garnish
Method
First dissolve the Knorr Chicken Stock Pot into 600ml boiling water to make the stock.
Finely slice the celery, reserving the leaves for use as a garnish.
Heat the butter over a low heat in a large, heavy-based saucepan until melted.
Add the celery and onion to the pan and mix gently to coat with the melted butter.
Finely chop the white of the leek and add to the celery mixture.
Finely slice the celeriac and add to the pan, mixing in gently.
Cook the vegetables over a very low heat, stirring often, for 10–15 minutes so that they soften but without taking on any colour. Known as 'sweating', this gentle cooking process intensifies the flavour and natural sweetness of the vegetables.
Meanwhile, as the celery mixture is sweating, finely slice the potato and add it to a separate large saucepan. Add in the double cream and the Knorr Chicken Stock. Bring this mixture to a gentle simmer.
Add the sweated vegetables to the simmering Knorr Chicken Stock mixture. Bring to the boil, then reduce the heat and simmer, stirring now and then, for 10 minutes.
Working in batches if necessary, transfer the celery soup to a food processor and blitz until smooth.
For an extra smooth texture, pass the blitzed soup through a fine-meshed sieve into a large saucepan, using the back of a ladle to press down and gently work the mixture so that it passes through the sieve.
Gently heat through the sieved soup.
Serve garnished with a sprinkling of chopped celery leaves.
TRY OUR CHEF'S NEWEST RECIPES