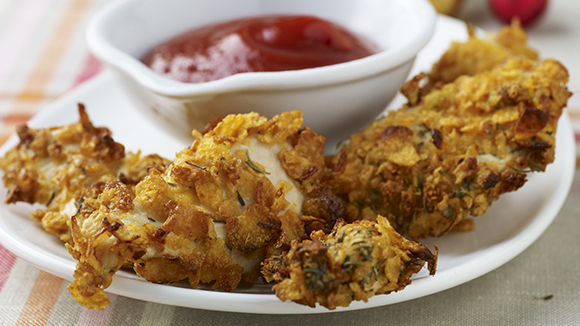 Crunchy Chicken Nuggets
Chicken nuggets are usually a firm favourite with kids – and our secret ingredient gives these ones a fantastic flavour and, of course, a satisfying crunch. Great for dipping in tomato sauce, barbecue sauce or even mayonnaise.
Recipe serves

30

Preparation Time

20 min

Cooking Time

20 min
Ingredients
500g chicken or turkey breast cut into bite size pieces
2 eggs, beaten
150g dry breadcrumbs or cornflakes, crushed
2tbsps grated Parmesan cheese
½ Knorr Chicken or Vegetable Stock Cube, crushed
½ tsp dried oregano or thyme
1tbsp olive oil for baking sheet
Method
In resealable plastic bag mix breadcrumbs, crushed stock cube, herbs and Parmesan cheese.
Toss the bag to blend the coating ingredients well. You can use a rolling pan to make the coating finer.
Dip the chicken pieces in the egg mixture and place in a bag.
Shake the bag to coat the chicken pieces evenly with the crumbs. Place the nuggets in a single layer on a lightly greased shallow baking sheet. Bake for 15–20 minutes at 220°C, 200°C fan, Gas Mark 7. Serve warm or cool accompanied by dips.
TRY OUR CHEF'S NEWEST RECIPES