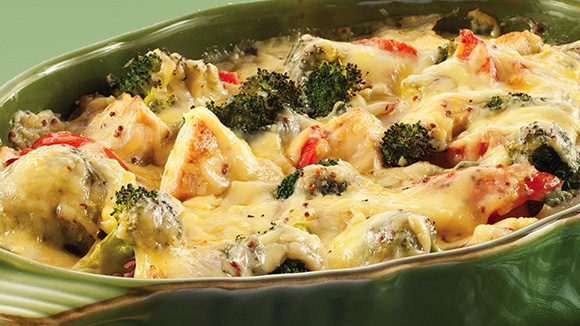 Chicken & Broccoli Bake
Make this quick, wholesome dish with small broccoli florets, sliced tomato, chicken and Knorr Cream of Chicken soup. For extra zing, stir in wholegrain mustard, then scatter Parmesan or cheddar on top and bake till golden. Serve with rice and look forward to clean plates all round.
Recipe serves

4

Preparation Time

10 min

Cooking Time

30 min
Ingredients
Packet of Knorr Cream of Chicken Soup
1 Medium head of broccoli
4 chicken breasts
2 tsps Maille wholegrain mustard
2 carrots
Tomatoes
50g roughly grated cheese (parmesan or cheddar)
Method
Preheat your oven to 180°C.
Take a generous head of broccoli and cut into small florets. Chop the carrots.
Boil the broccoli and the carrots in a saucepan for 3 minutes, and then drain.
Dice the chicken and seal in a frying pan for 5 minutes.
Place the chicken, tomatoes, broccoli and carrots in a suitable baking dish and season with salt and pepper.
Using a saucepan, mix Knorr Cream of Chicken Soup as per packet instructions, with 425ml of cold water, also adding two teaspoons of mustard. Mix well before bringing it to the boil.
Pour the boiled soup into the baking dish, sprinkling generous handfuls of grated cheese over the top.
Bake in the oven at 180°C for 25-30 minutes, or until golden and bubbling.